Sponsor a Farm Animal! 
While we are not currently open for visitors, our animals are still here and eager as ever to visit with you! With our new 3, 6, or 12-month Farm Animal Sponsorship Subscription, you pick one of your favourite farm animals to support from home! Receive monthly updates in the mail that include information on your animal such as what they eat, what the farmers do to take care of them every day, and some fun farm stories about what they've been up to! Monthly updates will also include a new photo of your animal, and a small farm-themed surprise item. All proceeds from your sponsorship go directly to the care of our animals, including the costs of food and veterinary care!
**NEW GIFT OPTIONS AVAILABLE**
Looking for the perfect gift for the animal lover in your life? A monthly Sponsorship is the gift that keeps on giving! Now available with a printable certificate featuring the name of the Sponsor as well as the name of the animal they are sponsoring! We have also included the option to add Day Passes to Butterfield Acres so the Sponsor can come and meet their animal in person! Day Passes are valid April through September.
Take a look through our animal profiles and when you've picked which farm friend you'd like to sponsor… CLICK HERE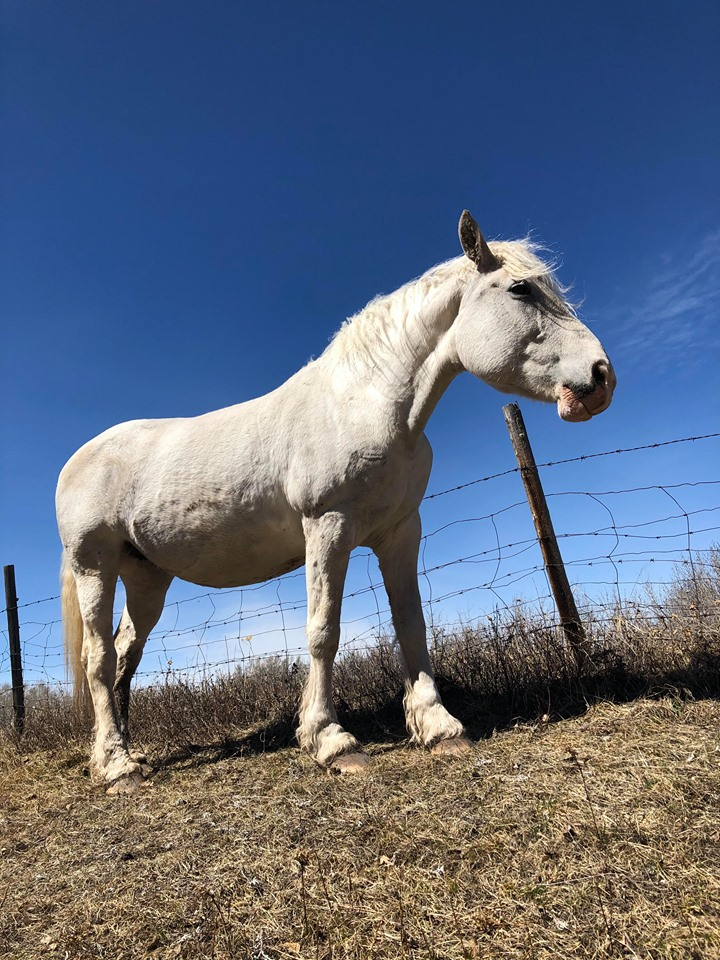 Name: Ghost
Breed: Percheron and Curly Cross
Age: 17 (born 2003)
Ghost is a new addition to our 'farmily' – she joined us in January 2020! She is a Percheron draft horse cross. Drafts are big, strong horses that were traditionally used for pulling heavy loads and farm equipment. Before she came to Butterfield Acres, Ghost was a trick riding lesson horse! She can often be found hanging out with her buddies Kimmy, Dakota, Miller and Bullseye, or taking our farmers for a ride to check up on the back pasture!
Name: Reba, Shania, and Dolly
Breed: Saanen and Alpine cross dairy goats
Born March 2020
These goats were born to three of our best dairy goat mums! When these girls were born, they were bottle fed milk by hand! Bottle feeding ensures that all our baby animals are happy being handled and are extra friendly with people. These 3 girls love to climb and jump on the ramp in their pen, and get so excited when people come to visit them!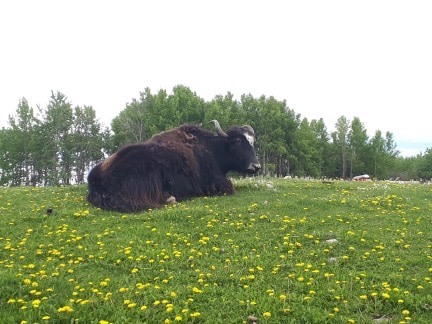 Name: Everest
Breed: Yak
Age: 10 (born 2010)
Everest is our domestic yak! You can find him out in the pasture with Modi and Matilda, our zebus, and Cheesecake, our tiny heifer! Everest and his friends spend their time grazing in our pastures, and you can often find them napping together on the grass! Everest's favourite treats are pumpkins, and he loves getting the leftovers from our Harvest Pumpkin Hunts every October!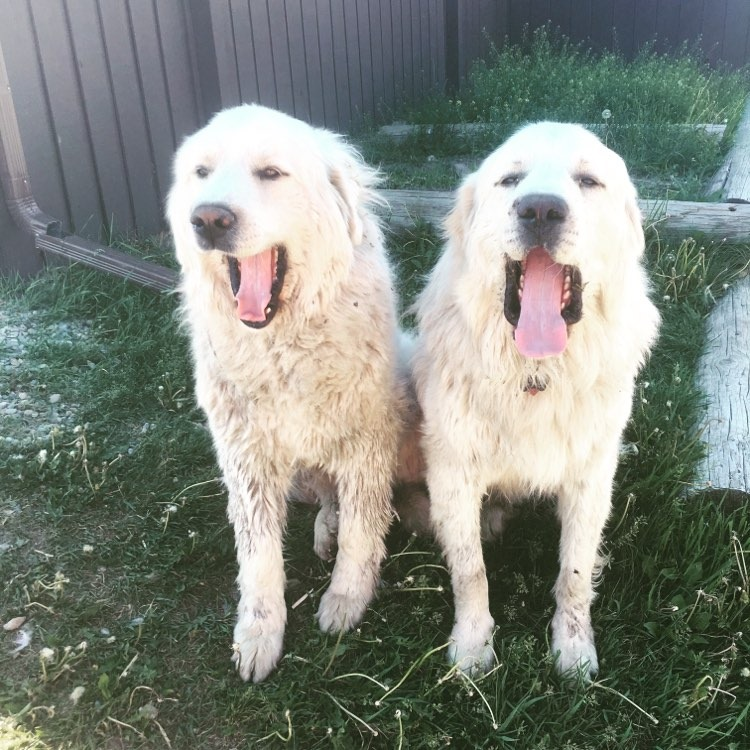 Name: Teddy and Bear
Breed: Great Pyrenees
Age: Teddy – 8 (born 2012), Bear – 9 (born 2011)
Teddy and Bear are our Livestock Guardian Dogs here at the farm! They do a great job of watching over our animals and protecting them. These intelligent gentle giants have a calm personality and are very independent thinkers .  They are always on duty, watching and listening for anything unusual.  They are especially active at night, keeping the farmyard safe.