New! for 2020…HARVEST PUMPKIN FEST!!!!
Weekends in October!!!
Stroll through the farmyard and find your perfect PUMPKINS at Butterfield Acres this year! Add in some great animal visits, fabulous  fall photo-ops, pony rides, a ride thru Scarecrow Alley in the back woodlands (spectacular at this time of year) and you've got the MUST-DO socially-distanced fall fun day that is great for the entire family! We are adapting our fall programming for COVID… so things are predictably different from previous years…. but we've got many ways to have a safe day out in the fresh air at the farm!  We also ask that you please read through our COVID highlights on the Home Page, just so you are in the know!
Admission tickets  to the Harvest Pumpkin Fest MUST be pre-purchased online (see below).
Here's what will be happening:
Visits with all of your favorite farm animals (of course)! Hand washing stations available throughout the farm and outside  animal pens and activities! With covid precautions, we now must be washing hands both  BEFORE and after each pen/activity.
Memorable Autumn photo opportunities: we've come up with some  adorable photo-ops for your family photos!
Pony rides! Child weight limit: must be UNDER 60# /27kg.  Masks required.
Tractor pulled wagon rides through Scarecrow Alley in our beautiful back woodlands…sensational fall colours; leaves will be falling throughout the month!  Masks requested.
Warm up with our crackling fire pit while enjoying some hot chocolate (child temperature), apple cider, or coffee!  And… social distance!
Costumes encouraged!! Dress up in your favorite family-friendly Halloween costumes!  Two weekly contests  for 2021 Season Pass  1) for a family of up to 2 adults and 2 children,  2) for an individual.   Just post your photos to Instagram and tag us!  
And best of all……. all the pumpkins out  on display can be purchased to take home! Stroll throughout the farmyard and pick out your favorite pumpkins! Your wagon will come in handy if you are getting pumpkins to decorate your house and yard.  At the end of your visit  (or if you want to buy your pumpkins  early and take them to your car)  you'll stop at the weigh station on the back side of Admissions to pay.  Watch for signs near the new exit behind the Admissions building. We ask that you always wash hands before handling pumpkins, and that you minimize touching until it is yours!
When visiting the farm please make sure the Adult/Child ratio is  at least 1:3 and that all attendees are aware of our Farm Safety Rules. Plan to have a safe time at the farm.  Let's make some FUN covid memories!!!
…to book your "Pumpkin Fest"  Birthday Party…
Book your child's Birthday Party during our Harvest Pumpkin Festival!  Lots of options for you, but COVID style Birthdays look a little different than how they've looked before.    For a quick run down on your Birthday options during the Pumpkin Festival, please send us a quick email request at FarmFun@ButterfieldAcres.com and we'll get you some information to work with!
Pumpkin Fest  Prices
Children (able to walk to 17 yrs)
$13.49 + GST
Adults
$15.49 + GST
PUMPKIN FEST TICKETS ARE NOW ON SALE.  To accommodate covid safety guidelines, tickets will be valid for specific 2 hour segments.  Admission by ticket only.  Drop-in admission ONLY if there unsold tickets (check back here for availability day-of).  See below for specific dates.
Hours
The Pumpkin Fest runs  10am – 4pm weekends in October, in  specific 2 hour windows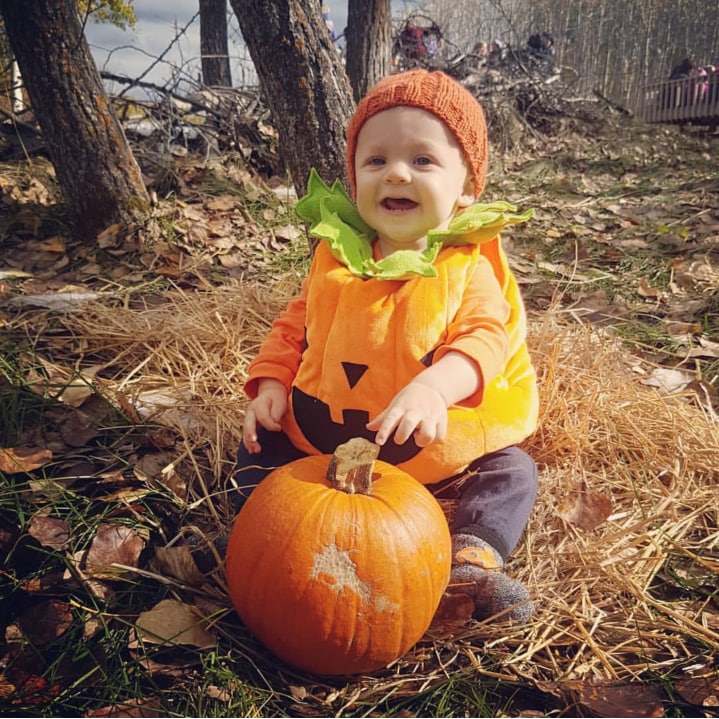 AND…Order your Pumpkin Fest tickets here: