About the Farm
 
At a Butterfield Acres, there's so much to do! Hmmm, let's see…
Lots of different farm animals.
Visit many right IN their pens or thru the fence for the bigger ones! Bring your family, friends, or Birthday Party! Farm fun is always better when you're with your favourite people!
Feed the critters with some cones from the Chop 'n Cones barn
Let the piglets chew your shoelaces
Hee-haw with the donkeys
Try to make a sound like a mule
Little chicks… how cute
Make a noise like a carrot… best way to get a bunny to love you
Can you get the turkeys to gobble back to you?
Have you ever milked a goat? Come on over and give it a try*
Hmmm, what's an emu?
Learn some good animal jokes
Hunt for freshly laid eggs
Play on the goat bridge
Pose for a goofy picture
Have a picnic in one of our shaded parks
Great place for your next Birthday Party or Family reunion
Have a warm snack on a cool day
Come for a Pumpkin Hunt in the Fall
Book a fire pit and roast some hot dogs
Get tickets for our Legendary Easter Hunt
Explore Nursery Rhyme Park
Stilts… they can't be that difficult, can they?
Climb on an old tractor
Make the summer perfect!  Day Camps for 3-14 yr olds
Ride over the hills and through the woods on a tractor-pulled wagon!*
Have a cool snack on a warm day
Children under 60lb can go for a pony ride**
* Specific times for each day posted at Admissions
** See Hours and Admission for details
Best seasons to visit
Things on the farm change with the seasons… you'll never experience the same visit twice! See the spring babies, have a blast at Summer Day Camps or join us for a Pumpkin Hunt in the Fall.
We close between November and March for on-site activities BUT animals are still available to come to see you (YEAR ROUND!), then it's time for Easter Hunts in the Spring… and we start all over again!
Best times of the day to visit
Between April and September, there are specific times during the day when young folks (under 60lb) can ride on the pony, or milk a goat or go for a wagon ride.
Plan your visit to include any activities that you're interested in!
Plan for a picnic
There are several picnic areas to enjoy a packed lunch and an on-site concession called Gobbles and Gulps where treats and drinks can be purchased.
What should I wear?
Start out right by packing appropriate gear for the weather (hats, sunscreen). Consider wearing an older pair of shoes and older clothes….HAY, IT IS A WORKING FARM after all!!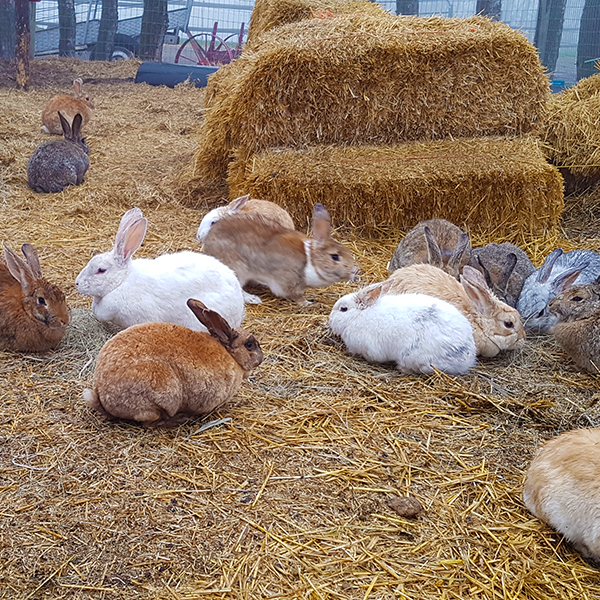 Facilities
Washrooms
Hand Washing Stations
Wheelchair/Disability Access to most areas with Assistant
(we do not have paved pathways and the terrain is slightly hilly)
Free Parking
Gobbles and Gulps Snack Concession
"Gobbles and Gulps" is located where you pay admission and you can expect a friendly staff member to answer all of your questions. It's where you can buy a variety of Souvenirs and farm memorabilia such as brightly colored T-shirts and earrings, stuffed farm animals, and where you can purchase instant cameras and film to catch those priceless moments!
"Gobbles and Gulps" is also a food concession where you can buy a hot coffee or a cold space popsicle, popcorn, juice, and all the usual snacks. Be sure to drop in for a "Gobble" (something to eat) or a "Gulp" (a drink)
"Gobbles and Gulps" Hours:
Open 10am to 4pm daily in July and August.
Open 10am to 4 pm weekends only, in April, May, June, September, and October.
On weekdays, during business hours just ask at the office across the way and we can help you with any drinks or snacks!
Amazing Animal Experiences! Kids and Animals Connecting!
Butterfield Acres is a great place for everyone to visit but especially good for Grandparents to spend quality time with their Grandkids!
Need Birthday or Gift Ideas? We believe 'experiences' can be the best gifts of all!  Try a Season Pass (we'd be pleased to personalize it for you!)  Gift Certificates toward Day Camps this Summer, or for a Birthday Pony (or other animals) to come to YOUR house. We've got cute farm T-shirts and many other "farmy" items such as mugs, and adorable stuffed farm animals too!!
 
Payment Options
We accept Visa, Mastercard, Debit and Cash. Sorry no personal cheques.
Privacy Policy
Information we gather in the administration of our programs at Butterfield Acres is used solely for the administration of our programs. We do not ever sell, rent, trade. or otherwise share your personal information.
Refund/Cancellation Policy
Fees for our programs and services are refunded ONLY if Butterfield Acres must cancel due to low registration or low sales volume. Otherwise, fees are not refundable. Our programs run regardless of weather. One exception is Birthday Party Packages. With 14 days notice, Birthday Party Packages may be refunded less a 20% administration fee.